« Charleston, SC Antebellum Home Tour | Main | Going to Philadelphia? Stay for a buck. »
Friday, March 20, 2009
For the ultimate traveler - RV with sportscar underneath
For those who have plenty of cash and want to explore the country firsthand at their leisure in a new RV, the Volkner Mobil is for you. This German RV comes complete with the latest computer gadgetry and fiber optics for the ultimate in control that can be customized to your specifications and a mini garage underneath for storing your sportscar like the one shown here. If you're not that flashy, opt for a Mini Cooper instead.
The Volkner would have come in handy during our travels, especially out west and to Alaska years ago (although we would have looked strangely out of place at some of the campgrounds visited along the Alcan, or while boondocking).
Bring lots of cash, as the very upscale Volkner is not cheap, and I expect you won't find anyone to finance you.
For serious inquires, email Volkner. For everyone else, continue to dream and check out this video on the Volkner RV.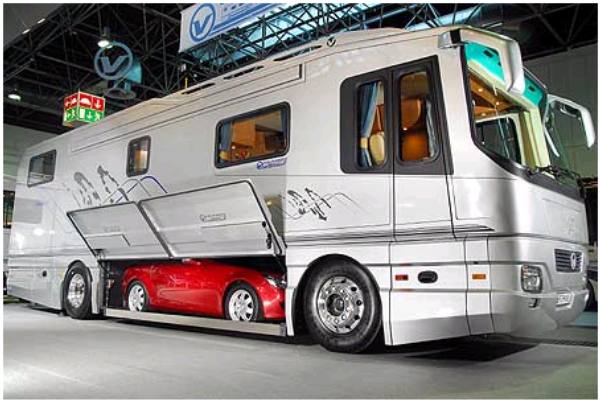 Best Selling Travel Books