Friday, May 29, 2009
Galveston Restaurant Focus: Sonny's Place
Known by Galveston locals for ages, Sonny's Place has reopened on the island, offering signature burgers, sandwiches, and seafood favorites. "Pappa" Puccetti opened Sonny's for business in 1944 and "Junior" Puccetti has held the reins now for almost 60 years.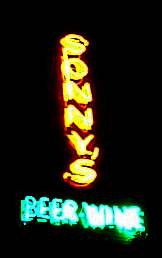 Yes, it's a bar and grill and the surroundings are nothing you would call fancy by any stretch, but Sonny's Place is family friendly and pleases the pallete with popular dishes like Grandma Theresa's spaghetti, muffuletta, fried shrimp, or cheeseburgers. The walls are lined with memorabilia of Galveston's history and is the place for delicious food and to mingle with local islanders to find out what's going on.

Sonny's Place is open Tuesday thru Thursday from 11am-2pm & 5pm-9:30pm and Friday & Saturday from 11am-2pm & 5pm-11pm.
Cash or check only.
Sonny's Place, 1206 19th St., Galveston, TX 77550
Sunday, May 24, 2009
Saturday, May 23, 2009
Wednesday, May 13, 2009
Saturday, May 09, 2009
Sunday, May 03, 2009