« Hotel Granduca: a luxury Houston hotel with Italian elegance | Main | The Lancaster Hotel: Small Boutique Hotel Big on Elegance in Downtown Houston »
Friday, January 23, 2009
Contemporary Magnolia Hotel In Historic Houston Landmark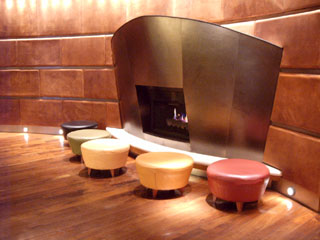 In our continuing series on the best Houston hotels, we feature the Magnolia Hotel.
Built in 1926 as the home of the Houston Post-Dispatch newspaper, accolades go to Magnolia Hotels for preserving this historic building in downtown Houston for guests to enjoy and in further enhancing the special character of the local downtown areas.
The lobby and open areas are designed in a warm art-deco design, with original sculptures and other artwork displayed throughout. The lobby is circular, with attractive hardwood flooring and a free-form metal staircase seen overhead on the 2nd floor. There is lots to do in the immediate area around the Magnolia Hotel, which is within walking distance to the Theatre District, Minute Maid Park, the Downtown Aquarium, and the George R. Brown Convention Center. Read more about our visit in our Magnolia Hotel feature.