Magnolia Hotel, Houston, Texas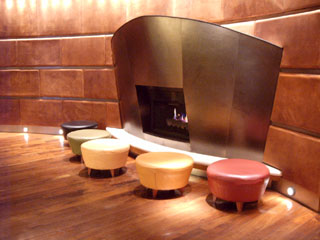 Contemporary Hotel In Historic Houston Landmark
by Carl Burnham

The Magnolia Hotel building in Houston is listed with the National Register of Historic Places, and has witnessed much history within its' walls, as home to a newspaper, oil companies, and now a luxury hotel.

Watch a Video of the Magnolia Hotel Up Close
The lobby and open areas are designed in a warm art-deco design, with original sculptures and other artwork displayed throughout. The lobby is circular, with attractive hardwood flooring and a free-form metal staircase seen overhead on the 2nd floor.

There is lots to do in the immediate area around the Magnolia Hotel, which is within walking distance to the Theatre District, Minute Maid Park, the Downtown Aquarium, and the George R. Brown Convention Center, with free car transportation provided downtown with advance notice. Valet parking is available on-site from $24 per night, although we chose to park on the street. We found the attendants and concierge to be very responsive with offering assistance.

The Magnolia Hotel includes 314 guest rooms ranging in size from a large Ross Sterling Presidential Suite, Studio Suites, Guest Suites, and King Guest Rooms. Studio and Guest Suites range in size from 500 to 700 square feet, with King Guest Rooms averaging 400 square feet.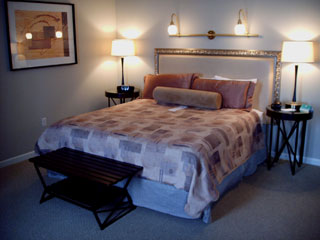 King-Sized Bed in Studio Suite
Our Studio Suite included a comfortable king-sized bed with plush pillows, entertainment center with 32" TV, stocked refrigerator, with a living area that includes executive desk, alarm/radio, sofa, chair, and velvet drapes, in stylish warm colors. Each window from our 14th floor suite had a unique view of downtown Houston.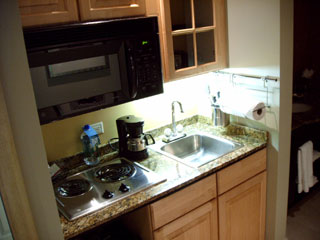 Kitchen Area
At the entrance to our Suite was a kitchen with coffeemaker and coffee, countertop stove, an extra refrigerator, silverware, and dishes. A closet contained bath robes, iron, ironing board, and security safe. The wash area included an impressive granite countertop, with modern fixtures. The bathtub/shower area was roomy, with bath amenities made specially for Magnolia Hotels. Free Wi-fi Internet is available in all areas of the hotel.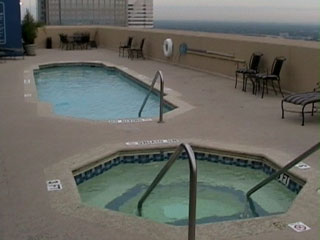 Roof Top Pool and Jacuzzi
An exclusive to the hotel is a small pool and Jacuzzi situated on the roof. From the roof, you can see one-of-a-kind views of downtown Houston. We enjoyed lounging while viewing the surrounding buildings at night and relaxing in the Jacuzzi underneath the stars. A Fitness Center also on the top floor is open all hours, and includes numerous modern aerobic and weight machines.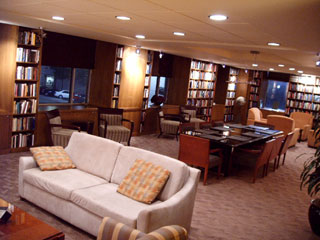 Magnolia Hotel Library
The 2nd floor area includes several meeting rooms (with a total 6,000 square feet available on the 3rd floor), a library, billiards room, Magnolia Bar, and Magnolia Cafe area where a daily complimentary breakfast buffet is served.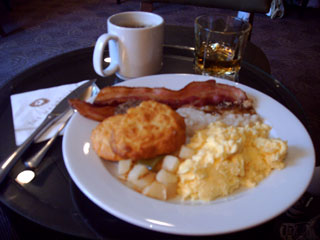 Breakfast at the Magnolia Hotel
Breakfast selections include eggs, bacon, sausage, toast, bagels, granola, grits, cereals, yogurt, tea, and Starbucks coffee. Breakfast is served from 6 - 9 am weekdays, and 7 - 10 am on weekends.

Enjoy complimentary drinks from 5:30 to 6:30 pm daily, and sharpen your skills in the billiards room with big-screen TVs behind the Magnolia Bar. The bar serves a wide range of drinks, and is open from 5 till 11 pm. From 8 till 10 pm, complimentary fresh cookies and milk (available as low-fat, strawberry, or chocolate).

One of the popular packages offered is the Texas Size Love Package for $229 a couple for that special romantic getaway:
* A King Guest Room for two
* Complimentary drinks in the Magnolia Club
* A dozen large long-stemmed roses
* Champagne and chocolate covered strawberries
* Complimentary cookies and milk in the Magnolia Club
* Breakfast for two in your room

The IAH-George Bush Intercontinental Airport is just 19 miles south of the Magnolia Hotel.

We would like to thank the Magnolia Hotel staff for their hospitality and for assisting with our feature.

Magnolia Hotel

Google Map
1100 Texas St
Houston, TX, United States 77002
1-866-940-1794 



b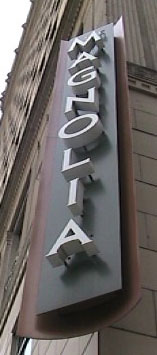 When built by the future Texas Governor (and Humble Oil founder) Ross S. Sterling in 1926 as home of his newspaper, the Houston Post-Dispatch, it was one of the highest buildings west of the Mississippi at 22 stories. Just across the street is the old Christ Church Cathedral (open daily and well worth a visit). The church was formed in 1839 when Texas was a Republic (with the present building completed in 1893). The Christ Church Cathedral is the oldest in Houston and the only church still holding services in its original location.
Sterling, ever the enterprising titan, sold his interest in Humble Oil in order to buy the newspaper, and hired architects Sanguinet, Staats, Hedrick & Gottlieb to design the Post-Dispatch building. The early studio for KPRC radio was housed here during the early days. The building was home to Shell Oil Company for many years.
An extensive $50 million renovation of the building was completed by Steve Holtze Hotels in 2003, which also owns the historic Magnolia Hotel in Dallas which has the trademark neon flying horse Pegasus sign for the Magnolia Petroleum brand overhead. Besides Houston and Dallas, the boutique hotel also owns distinctive properties in Denver and Omaha.
Accolades go to Magnolia Hotels for preserving these historic buildings for guests to enjoy and in further enhancing the special character of these local downtown areas.

GO USA cards - unlimited FREE admissions to top attractions!
check our exclusive specials

Travel America Tshirts & More
Arches | Grand Canyon
Glacier-Mtn. Goat

Best Rated Hotels

Advertise with Southpoint