« Top tips for finding Cheap Airline Tickets | Main | Houston Restaurant Focus: Cullen's Upscale American Grille »
Wednesday, May 20, 2009
Top 10 Interesting things to do in Houston
Now is a great time to head to Houston for business or a vacation getaway. Here are ten suggestions for some fun and unique things to see in and around our 4th largest U.S. city: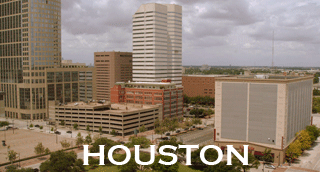 Get Admission To Six Great Houston Attractions for Almost Half Off! - Includes NASA, Downtown Aquarium, Houston Museum of Natural Science, Houston Zoo

Named after General Sam Houston, the first president of the Republic of Texas, visit the Sam Houston Park downtown where nine historic buildings reside that date from 1823 to 1905.
Stay in an historic hotel downtown and experience Houston like never before. Each of these downtown Houston hotels are housed in historic buildings that I have stayed in and highly recommend. Read about each one in our special Features, and for a limited time save big on stays:

The Lancaster Hotel - Special Rate Available! - Thru June 9th
Built in 1926 as a hotel, The Lancaster is the only small boutique hotel in Houston. Say hello to W.K. Hicks, the Head Doorman, who had a notable career with the Houston Oilers. Be sure to dine at The Bistro inside the Lancaster Hotel on the way to the theatre nearby. Read more on The Lancaster and watch our video.

Magnolia Hotel - Stay 2 Nights & Save 20% or Stay 3 Nights & Save 30%! - Thru June 15th
Also built in 1926 by the future Texas Governor Ross S. Sterling (of Humble Oil), the building has housed a newspaper, oil companies, and now a luxury hotel. From the unique rooftop pool and jacuzzi, view the Houston skyline like nowhere else. Read more on the Magnolia Hotel and watch our video.

Hotel ICON - Save 35% on a Stay! -Thru June 15th
Built in 1911, the building was one of the first steel and concrete skyscrapers in the United States. Reside at the Hotel ICON and have the unique experience of staying in a former bank (the Union National Bank). The highly acclaimed BANK Restauraunt is housed in the hotel lobby, with light rail service next to the hotel. Read more on the Hotel ICON and watch our video.

Tour NASA Space Center where astronauts are trained and Apollo astronauts transmitted the first message from the Moon to Mission Control - "Houston, Tranquility Base here.
The Eagle has landed."
With a diverse ethnic community, there are many great places to eat. During our recent visit, within just a few miles we visited the New York Bagel & Coffee Shop, a Russian grocery, and Droubi's Bakery. Look for our Top 10 Restaurants in Houston coming soon.

There are numerous interesting museums around Houston, including a Natural Science Museum, Children's Museum, the Menil Collection, and a Fine Arts Museum.
Houston is home to the Gulf Greyhound Park, the largest parimutuel dog racing complex in the world.
Tour the impressive Battleship Texas docked near the San Jacinto Monument. Serving in WWI and II, the Texas has been extensively repaired.
Houston has lots of interesting shopping areas, including Rice Village (eat at Le Peep Restaurant), the Galleria, Old Town Spring, and over 4 miles of shops and restaurants in an underground tunnel in downtown Houston.
There are numerous great sporting events and shows around Houston. Plan before you go. Reserve tickets to an upcoming Houston event.

Nearby Galveston is a hub for many cruise lines, offering lots of island attractions (Moody Gardens, Schlitterbahn, the Strand, Bishop's Palace, Moody Mansion, Tall Ship Elissa, the Lone Star Flight Museum, just to name a few) and beach-side fun.