« The Blue Angels - San Francisco Fleetweek | Main | The Evils of Eminent Domain in Hollywood »
Wednesday, December 12, 2007
Exploring Alaska's Heritage on the Riverboat Discovery
In grasping a picture of the Alaska frontier and history, nothing beats a tour on the Riverboat Discovery in Fairbanks, Alaska, which we took a few years ago (visit our Alaska state guides for more features and photos). The Binkley family has operated sternwheel riverboats since the Gold Rush way back in 1898. Captain Jim and Mary Binkley first offered riverboat tours in Fairbanks in 1950. Their three sons are all riverboat captains and their grandchildren also joined in by age five. Four decks allow great views from the sternwheeler aboard the Riverboat Discovery III as it chugs along the Chena and Tanana Rivers during a 3 1/2 hour tour. Three of the decks are heated and glass-enclosed, with the fourth a sun deck. A live commentary is given describing everything we were seeing and gave us interesting details on the area with video clips.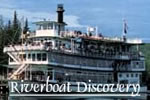 As we travelled along the Chena River, first we watched as a bush pilot took off in his bush plane on a very short runway right next to the river. Many bush planes have a small wheel under the tail to help them take off on short runways.
We passed many modern log homes along the river, some very large in size. Most were made of huge white spruce logs and had huge picture windows so they don't get cabin fever during the long winter months. Some even had wood-fired outside hot tubs made of wood slats.
Next, the riverboat stopped by the house of Susan Butcher, 4 time winner of the 1,100 mile Iditarod dog-sled race held every March that runs from Anchorage to Nome. Little did we know then that Susan would pass away of cancer a few short years after our visit. Susan kept over 100 dogs at her home where she trained them. We saw a few of the older dogs and some puppies while there. The older dogs that no longer race help train the young dogs. Susan and her husband and two small children came out to wave at everyone and Susan talked to us about her dogs and dog-sledding over a microphone which was piped into the riverboat.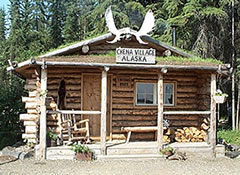 The riverboat then stopped in front of a Native indian fish camp where we saw a fish wheel in operation. These fish wheels are used to catch salmon when they are running. Several kinds of salmon are caught here including chum salmon also called "dog salmon" and king salmon which get up to 50 pounds. We watched as an Athabascan indian woman demonstrated skinning and gutting a salmon and cutting it for drying. We could see a fish smoke house and salmon drying on racks out in the sun. We turned around in an elbow of the Tanana River and made our way to Chena Indian Village. Here the passengers disembarked to walk around the village. We stopped at about 4 different areas in the village where Athabascan women discussed their way of life with us. We saw the gorgeous bead and fur work of one Athabascan woman. She showed us several fur coats and dresses with very intricate beadwork. The work was of museum quality. Another Native woman showed us furs of all the wild animals in the area and a cache house where they were traditionally kept. Another woman showed us a group of live reindeer and showed us huts, a canoe and baby-carrying baskets that were used by Athabascans years ago.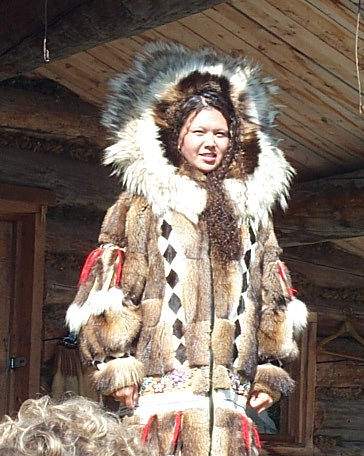 Reindeer are domesticated Caribou. They have hollow outer hair that insulates them and helps them swim. Reindeer and Caribou are the only members of the deer family where both the male and females have antlers. The antlers are shed every December except for the pregnant females who keep their antlers to protect their babies born in the spring.
At the village we also got to see some of Susan Buthcher's sled dogs up close while another Iditarod sledding woman told us a little about them. After reboarding the boat the woman hitched up the dogs to a sled and rode around the village several times while we watched. The riverboat contained several snack bars where donuts, water and coffee were complimentary and other snacks and drinks were available. There were also several gift shops on board. The riverboat is handicap accessible. This is a must see tour to glimpse a unique part of Alaska history while traveling through the Fairbanks area.