« Harbor Parade To Light Up the Galveston Bay | Main | Exploring Alaska's Heritage on the Riverboat Discovery »
Tuesday, December 11, 2007
The Blue Angels - San Francisco Fleetweek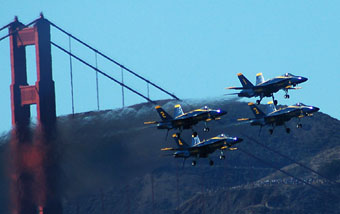 For the airshow event fans, nothing beats the
San Francisco Fleetweek
held every year around the first week in October. In case you have a chance to see it if in the Bay area next year, mark your calendars now. Bernard Zee took some amazing close-up photographs during the week for the event, which includes a parade of ships, ship tours, air show acrobatics, and of course, the Blue Angels.
Be sure to read his interesting writeup exclusively for Southpoint of
Fleetweek
.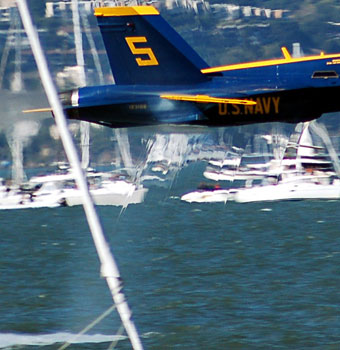 As noted by Bernard, "My favorite part of the Blues show is the high speed sneak past. This is where the lead solo pilot pops over the Golden Gate Bridge, gets really low to the deck, and jets past show center at a little under the speed of sound (700mph). Most everybody is looking the wrong way, at the formation of 4 doing a leisurely roll in the distance. There IS a reason it is called the sneak pass. If you see the formation of four start to do something nice far away, start frantically looking the other way!"
Read Bernard Zee's firsthand review of San Francisco's Fleetweek. Also, view some of his amazing close-up DSLR photos he took during Fleetweek.