« Looking forward - Mississippi Gulf Coast | Main | New Accommodation - Bear Creek Retreat »
Monday, September 10, 2007
Celebrity RVer of the Day - John Madden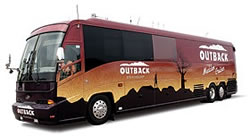 In traveling over the years, we've traveled a good bit by vehicle, RV, or plane to destinations across the country.
Nothing matches what John Madden logs in his custom motorhome supplied through an advertising agreement with Outback Steakhouse.
The NBC football broadcaster is driven up to 100,000 miles a year to games in the $800,000+ luxury motorhome, complete with 3 high-definition plasma TVs, a mobile Internet system, satellite telephone, steam shower, and full kitchen.
Now that's the way to travel...