« New features - Honky Tonking at Billy Bobs | Splashing at SeaWorld | Main | A unique B&B hideaway - Bear Creek Retreat »
Thursday, August 16, 2007
Cruising on the high seas Elvis style
With the 30th anniversary of Elvis Presley's death this month, Elvis events and memorabilia are at an all time high.

For the true Elvis fan, why not honor his memory in style?
Hop aboard the Carnival Celebrity for an all week Elvis cruise from Aug. 30-Sept. 3.
The ship will depart from Jacksonville, Florida, with stops in the Bahamas, before returning to Jacksonville. Jerry Schilling, a long-time friend of Elvis will be your host. His residence in West Hollywood was given to him by Elvis back in 1974. Entertainment scheduled will include the Imperials, Ronnie McDowell, the Jordanaires, the Dempseys, Joe Guercio (music director for Elvis), and more. During the cruise, there will be four shows commemorating the life of the King in song and $10,000 in prizes given away.
Pricing for the cruise is from $750 to $2,499, depending on cabin location. Spacing is still available.
If interested, contact us for details and to register.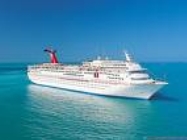 And for the conspiracy fan, check out this book recently sold from our partner site at SouthpointBooks.com -



Elvis Undercover: Is He Alive and Coming Back?