« Post Katrina 2 Years Later: Finding ways to help the Ms. coast | Main | Cruising on the high seas Elvis style »
Tuesday, August 14, 2007
New features - Honky Tonking at Billy Bobs | Splashing at SeaWorld
As we add to our local Texas features to include more destinations, we have now posted two new Feature Attractions in our Texas guide. Also, look for new destination features on historic areas we have visited in Williamsburg, Jamestown, and the Blue Ridge Parkway. We are also in the process of adding a content management system to allow easy addition of ratings and many other member services.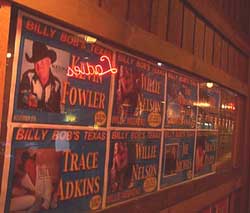 We make a return visit to the historic Stockyards to visit the expansive Billy Bob's Texas, and hear the rascally sounds of Kevin Fowler.
Also, we stop in at SeaWorld in San Antonio, and get quite a splash.