« March 2012 | Main | May 2012 »
Monday, April 23, 2012
Grand Staircase-Escalante National Monument
Grand Staircase-Escalante National Monument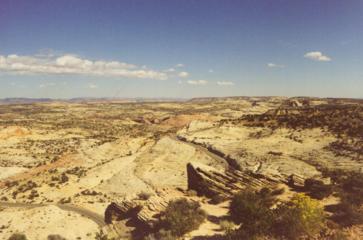 Seeing as how this week is free entry to National Parks, I was looking through our archives of places we've been near national parks that don't always get as much coverage. Created in 1996, this huge 1.7 million acre area in southern Utah contains rare rock formations, high multi-colored sandstone cliffs, messas, and ancient Anasazi Indian ruins, to name a few features. The cliffs rise upwards to over 6,000 feet in places exposing over three billion years of exposed rock. The majority of this U.S. Burea of Land Management land is undeveloped due to its' rustic features. Views are many along the road.

If you want to spend a week in remote solitude, this is the place. We drove along Scenic Byway 12 at the top section. We stopped to view Powell's Peak, named after John Wesley Powell, who explored the Colorado River area throughout Utah and Arizona in the 1860s. At one section, there is a steep 12 percent grade. At mile marker 52, we stopped to view ancient Indian storage places in the cliffs that the Indians stored their grainery supplies. One section, called Burning Hills, has underground coal fires which give the rocks their red color. You can feel the heat as it rises from the ground. There are numerous waterfalls and arches which are in the far sections of the monument.

We then drove along a 44 mile gravel road called Hell's Backbone (it is an appropriate name) bordering the Monument.


Hell's Backbone Road has been called "one of the most dramatic roads in the world". That is an understatement. Your heart leaps at every turn, seeing views deep into the ravens from both sides of the rough road in many places. The average speed we drove was 15 miles per hour. That was plenty fast along the narrow gravel and dirt road. There is a one-lane bridge along the way (built by the CCC). Besides the views along the ridges, you can see all types of interesting square shaped and round rocks in the area. Along the complete stretch of the road, we passed only three vehicles (several cows were meandering on the road though). The road was built as a passage for those traveling to the town of Boulder (the remote town was the last in the country to still receive mail via mule). The Anasazi Indian Village State Park is located here. About fifty percent of the buildings have been excavated so far, and date back over 900 years ago.
On the way back through the monument, a huge boulder (3 feet tall) had fell onto the road in the opposite lane. An RVer was taking a look at it. It had to be close to a thousand pounds. I wish I had taken a picture and that we had had more time to spend there, as we were headed to tour through 6 national parks/monuments in the state.

Also in Utah, Bryce Canyon National Park.

Friday, April 20, 2012
April 21-29 - Free Admission to National Parks
The title says it all. U.S. National Parks Week is back! So go celebrate by visiting one of our national treasures.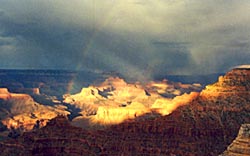 My personal favorite is the Grand Canyon. My first glimpse of the canyon was a late summer afternoon where I caught a spectacular thunderstorm as it rolled across the canyon, followed by a hint of a rainbow. Back then I was working with 2 Canon AE-1s, one with a wide angle and the other a zoom lens (dating myself here). One of those photos from that day is in a large frame hanging in our living room. Later that day as I drove along the eastern stretch of road along the rim, as it lightened I saw dramatic glimpses of the canyon. Unfortunately I had ran out of film (digital photographers are a spoiled bunch today).

There are many more personal favorites. Yosemite, Yellowstone, Glacier, Grand Tetons, Bryce, Zion...
Add to that list: Denali, Mesa Verde, Rocky Mountain NP...what was I thinking?!?

As you can see from our archives, our site is in need of a redesign (which we are working on).
Did I tell you about the time when I almost pet a mountain goat at Glacier? Ahh, I need a vacation.