Friday, April 20, 2012
April 21-29 - Free Admission to National Parks
The title says it all. U.S. National Parks Week is back! So go celebrate by visiting one of our national treasures.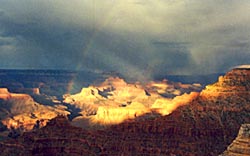 My personal favorite is the Grand Canyon. My first glimpse of the canyon was a late summer afternoon where I caught a spectacular thunderstorm as it rolled across the canyon, followed by a hint of a rainbow. Back then I was working with 2 Canon AE-1s, one with a wide angle and the other a zoom lens (dating myself here). One of those photos from that day is in a large frame hanging in our living room. Later that day as I drove along the eastern stretch of road along the rim, as it lightened I saw dramatic glimpses of the canyon. Unfortunately I had ran out of film (digital photographers are a spoiled bunch today).

There are many more personal favorites. Yosemite, Yellowstone, Glacier, Grand Tetons, Bryce, Zion...
Add to that list: Denali, Mesa Verde, Rocky Mountain NP...what was I thinking?!?

As you can see from our archives, our site is in need of a redesign (which we are working on).
Did I tell you about the time when I almost pet a mountain goat at Glacier? Ahh, I need a vacation.

comments powered by

Disqus