« Scenic Drives around Fredericksburg, Texas | Main | A boon for tourism? Texas may waive 20 cent gas tax by summer »
Tuesday, May 08, 2007
Heroes among us - a visit to Fredericksburg to the National Museum of the Pacific War
Situated over 9 acres, this museum tells the riveting account of the Pacific War, it's hardships, and how we fought the Japanese: one island at a time.

Numerous exhibits include significant period artifacts and war memorabilia for the Allies and the Japanese. A portion of the museum is housed in the old Nimitz Hotel, which was owned by the Nimitz family, and commemorates Admiral Chester Nimitz who served over the naval operations in the Pacific. I recommend a visit to the museum when in the area. Plan to spend about 3 hours to have time to visit all the exhibits.

The highlight of our tour was hearing two WWII veterans recount their experiences in battle who were volunteering their time to help teach our youth about this important time of our history.
I talked with Quinton Pyle, who saw up close as the USS Arizona exploded as it was hit by Japanese torpedos. He pointed on the Pearl Harbor photo where his ship, the
USS Bagley, was nearby in the Navy Yard, and was the first ship to return fire and shoot down a Japanese plane. The crew were commended for fast thinking, especially since many of the crew had just entered service.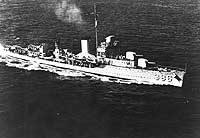 He showed me his left arm where it had been injured during the Pearl Harbor attack while cutting gromets from 5" shells (as mentioned in the link above, although his name is misspelled). Although walking with a cane, he appeared to be in good health, and remembered the fateful day clearly.

Mr. Pyle went on to serve aboard the Destroyer, including at Wake Island, Guadalcanal, Savo Island, and Saipan.
I was fortunate to be able to meet and talk with him. As the WWII veterans dwindle rapidly in numbers, it is important that their stories be told.

In the Pacific Combat Zone of the Museum, WWII veteran Peter Hammersen gave detailed accounts of what life was like on the islands fighting the Japanese. He served in the Army in the Pacific. He made no secret that he and other soldiers were no fans of General Douglas MacArthur, and how he kept others from getting the share of credit for winning the war. Before we departed, he stated, "The young people today need to know what it was like. All they have is TV, video games, and no hardships. They are not taught the full story behind WWII, and why we fought. There will come a time when we will need to fight again (a world war)." Hopefully, that will not ever happen.
Our military today, and their families need our support now more than ever.
Heroes among us.
Our greatest generation was all for one, and one for all.
Sacrifices were many. Many did not return.
All sacrificed, overseas, and at home for the one goal.
To win the war.
There was no question.
Many went through hell, and gave the enemy hell.
They had a job to do to save the world from evil.
They are our best. Our WWII veterans.
- CB