« Stay in a rustic 1850's log cabin: Lonesome Dove B&B | Main | New RV Innovations »
Wednesday, February 27, 2008
Free cruise contest ends Friday Febr. 29th
Want a chance to win a one week cruise?
Come up with a name for one of the two new largest Royal Caribbean International cruise ships - Genesis I and II.
Set to debut in 2009 and 2010, the cruise ships will accommodate 5,400 guests at a time. These cruise ships will be the largest ever built, and at a cost of $1 billion each it's reported.
Hurry though, as the contest ends February 29th. Visit namethatship.usatoday.com to register.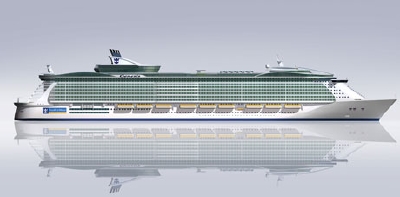 We have a survey contest in the works for a free chance to win a GO USA attraction card for Orlando. Stay tuned for details...