« New cruise ship sails into Galveston | Main | Are you at risk for a heart attack? »
Monday, January 14, 2008
Coppersmith Inn in Galveston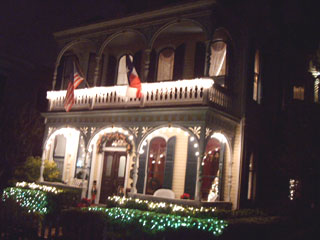 Built in a Queen Anne style by a talented German immigrant that predates the 1900 Storm, the Coppersmith Inn has an endearing charm. The curved staircase is one of many attractive features of the house. Be sure to watch our feature video on the Inn. As with the other b&bs we feature in Galveston, free cruise parking is provided for guests who stay while taking a cruise.

With Valentines Day (not to mention Mardi Gras) coming up soon, Galveston provides a perfect locale to enjoy with your loved ones for a romantic or fun getaway.
More features on Galveston coming soon, including more B&Bs visited, the Star Drug Store, talented artists we met, and interesting places to see while on the island.