« Upcoming Trip to Galveston | Main | 1965 Chevrolet Commercial with Bonanza Stars »
Wednesday, December 05, 2007
Love hotel rooms? Here's your chance to own one...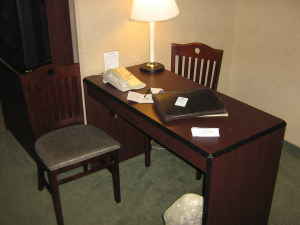 Do you love staying in hotels? I mean REALLY, as in wanting to design your bedroom or office like one? Well now here's your chance.

In one of the more unusual postings on Craigslist, this one on their Austin site caught our eye today.

The Amerisuites Hotel at 3612 Tudor Blvd. in Austin is changing into the new Hyatt Place Hotel. As part of the process, each corporate hotel room is being sold for a set price of $250 until this weekend. What does this include you ask?
Everything, right down to the chairs, desk, bed and headboard, sleeper sofa, end tables, lamps, stainless steel bar sink, TV and VCR, armoire, coffemaker, artwork, mirrors, vanities, toilets, fixtures, drapes, even the carpet and padding. This may be a good bargain, as the quality of the items appears new in many cases. If wanting a direct link, let me know for details.