« Just passing through... | Main | Looking for the "ultimate" stay for your next anniversary or event? »
Wednesday, August 01, 2007
Featured travel book - The Place No One Knew - Glen Canyon
Now available from our partner site Southpointbooks through Buybundle, is the illuminating photography book on Glen Canyon -
Edit - This book has now sold. Look for more unique travel books being featured soon.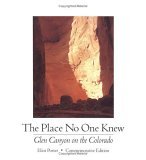 This rare, out of print book shows glimpses of the Glen Canyon area prior to being flooded for a dam near the Grand Canyon in 1956. Page, Arizona was founded at the same time. The photographs are stark in their beauty, and makes an interesting read of the history now beneath the waters.