« Upcoming trip to Corpus Christi and Houston | Main | Upcoming Destinations: Romantic Houston Getaway | Going South | New Medieval Times near Atlanta | Denver »
Monday, May 21, 2007
Travel to Corpus Christi
We just returned from our trip to Corpus Christi, the largest coastal city in Texas. Be sure to read our features on the Omni Bayfront Towers and a flounder gigging tour.The area offers alot for those vacationing, especially if you like the outdoors. We are working on additional features for Corpus Christi, including the Texas State Aquarium and the USS Lexington. Other sites include a Natural History Museum (which has replicas of all three Columbus ships that you can walk on), an art museum, a botanical gardens and nature center, a Selena memorial. For walking along the beach, within Corpus Christi many go to North Beach, which is by the USS Lexington.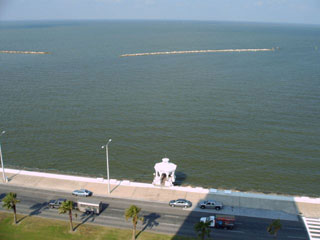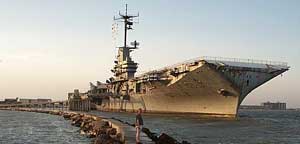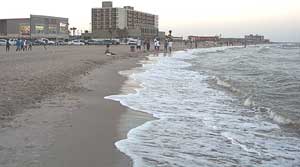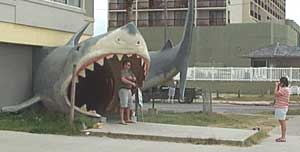 There are lots of places in the bays which look like prime fishing spots. Besides sports fishing, there are lots of places for bird watching (read our feature on the George Blucher House B&B across from a bird sanctuary), to see dolphins, With our feature on flounder gigging with Captain Dupnik, we discovered first-hand how fun the sport can be. From the flat bottom boat, we could see the water teaming with life near the shore, from sea turtles, string rays, perch, to flounder.

Lots of area small towns have interesting things for the history buff, including King Ranch in Kingsville, just south of Corpus Christi. Port Aransas has the Fulton Mansion (built in the 1850s). We were surprised at the lack of seafood restaurants around Rockport, Aransas Pass, and Ingleside. After exploring around, we discovered Catfish Charlies, a local favorite in Corpus Christi. We drove briefly to Padre Island, and also Mustange and Goose Island. The beach at Padre had seaweed washed up on the shore, which is common this time of the year. On Padre, we saw a truck almost get stuck in the sand, so we didn't venture on the beach with our vehicle very far. If you are careful, it's not a problem to drive it. Just stay on the areas noted. We plan to return later in the summer, this time with our kayaks, so that we can explore more of the bay up close.