« November 2011 | Main | January 2012 »
Wednesday, December 14, 2011
Wednesday, December 07, 2011
Pearl Harbor Survivor Recounts Japanese Attack
National Museum of the Pacific War, Fredericksburg, Texas
Situated over 9 acres, this museum tells the riveting account of the Pacific War, it's hardships, and how we fought the Japanese: one island at a time.
The highlight of our tour when we last visited a few years ago was hearing two WWII veterans recount their experiences in battle who were volunteering their time to help teach our youth about this important time of our history. I talked with
Quinton Pyle
, who saw up close as the USS Arizona exploded as it was hit by Japanese torpedos 70 years ago today.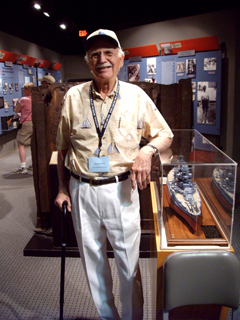 Quinton Pyle
Mr. Pyle pointed on the Pearl Harbor photo where his ship, the USS Bagley, was nearby in the Navy Yard, and was the first ship to return fire and shoot down a Japanese plane. The crew were commended for fast thinking, especially since many of the crew had just entered service. He showed me his left arm where it had been injured during the Pearl Harbor attack while cutting gromets from 5" shells. Although walking with a cane, he appeared to be in good health, and remembered the fateful day clearly.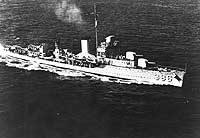 USS Bagley
Mr. Pyle went on to serve aboard the Destroyer, including at Wake Island, Guadalcanal, Savo Island, and Saipan. I was fortunate to be able to meet and talk with him. As the WWII veterans dwindle rapidly in numbers, it is important that their stories be told.
Numerous exhibits include significant period artifacts and war memorabilia for the Allies and the Japanese. A portion of the museum is housed in the old Nimitz Hotel, which was owned by the Nimitz family, and commemorates Admiral Chester Nimitz who served over the naval operations in the Pacific. I recommend a visit to the museum when in the area. Plan to spend about 3 hours to have time to visit all the exhibits.
Saturday, December 03, 2011