« September 2010 | Main | November 2010 »
Thursday, October 28, 2010
Kayaking Paddlefest in Corpus Christi
Looking for some weekend outdoor fun? Head to Corpus Christi for the Halloween Paddlefest being held at Port Aransas from Friday Oct 29 thru Sunday Oct 31, 2010. Kayakers from Texas area meetup groups will be congregating at IB Magee Beach Park at Port Aransas for a weekend of guided kayaking tours, demonstrations, BBQ, and campiing. New demo kayaks made by Mayan Seas, P&H Kayaks, and TideRace Kayaks will be shown as well as Greenland Kayaking. There will also be previews of the new kayaking book by John Whorff, "Paddling the Texas Coast." Wish that I didn't already have plans, this sounds like a great event for kayakers.

Headed up by area kayak expert Ken Johnson, we went on one of his kayaking tours last year and were impressed with his kayaking knowledge and expertise.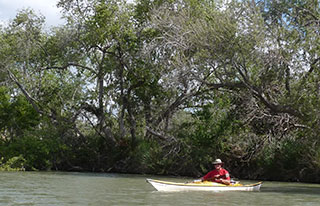 His guided tours which will be held over the weekend include:

1- Guided kayak tours of 1-Shamrock Cove birding refuge,
2- Historic Lydia Ann Lighthouse,
3- Circumnavigation of Harbor Island to see lots of dolphins,
4- Paddle along the Padre Island canal homes,
5- Corpus Christi Bay around the city and the Lexington Aircraft Carrier, and
6- Aransas River and Nueces River (the tour that we took).




Group Camping is available for only $12 per night, with a nightly beach fire with music and a BBQ Saturday night with Halloween costume contest.
For details on camping see here. Hotels are also available nearby.
Register to attend the Paddlefest in Corpus Christi by contacting Ken Johnson at johnsonkw@earthlink.net with the following information:
Will you attend Corpus Christi Paddlefest 10/29-31/2010 this year? ____Yes ____No ____ people in my party
Which days do you plan to attend? ____Fri 10/29 ____Sat 10/30 ____Sun 10/31
Do you want to pay $10 for a catered group BBQ dinner Sat night? ____Yes ____No
Do you want to pay $10 per 2-3 hr lesson for Greenland kayak classes by Doug Van Doren? ____Yes ____No
Would you be willing to volunteer to help (lead tours, assist other new first time kayakers, let others try your kayak)? ____Yes ______No
Thursday, October 14, 2010
Tuesday, October 05, 2010
Friday, October 01, 2010