Friday, January 21, 2011
The French Room in Dallas receives AAA Five Diamond Award for 2011

AAA has recently awarded 179 establishments the AAA/CAA Five Diamond Award® for 2011. The AAA award listing accounts for only 0.3 percent of the total 59,000 AAA listed lodgings and restaurants that receive the prestigious honor. "It is encouraging to see an increase in the number of AAA Five Diamond establishments this year," said Michael Petrone, director of AAA Tourism Information Development. "The recent economic downturn has presented many challenges for the travel industry including increased closures and fewer new restaurant openings."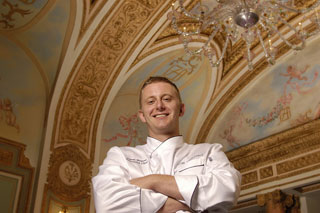 Executive Chef Jason Weaver of The French Room
Congratulations go to The French Room restaurant located in The Adolphus in Dallas and featured here at Southpoint.


The Adolphus Hotel

The Adolphus is a museum unto itself, and includes a rare 1893 Steinway piano which was destined for the R.M.S. Titanic. The piano was owned by the millionaire Benjamin Guggenheim, who died after refusing to get into one of the few available lifeboats just before the Titanic sank in 1912.

Watch in February as we visit The French Room in a new expanded feature.

View here for a full listing of the AAA Five Diamond Award list for 2011.


comments powered by

Disqus