Saturday, November 07, 2009
Wild West Trip: Day 9 Part III - Arches National Park
Over 2,000 unique arches can be found throughout Arches National Park. We tried our best to see them all in an afternoon... These unique arches are comprised of sandstone that have been slowly eroded by the effects of rain, sun, and time. First, we stopped in at the Visitor's Center for a walking stick medallion to add to my collection, and then on to capture all the sights before sunset.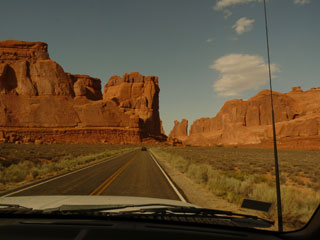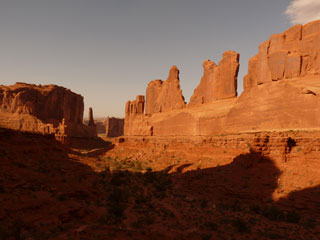 View at right is along Park Avenue Trail, with the Courthouse Towers with the Tower of Babel formation in the distance. They have changed little since 10 years ago when we were last here. The major change is Wall Arch is no more. The 71-foot span fell on August 5, 2008, a victim of the forces of time.

The sandstone and sculpted slickrock formations in Arches National Park were formed from 100 million years of erosion and underground salt beds. We could see the snow peaked La Sal Mountains in the distance. The mountains were so named by Spanish explorers who thought they looked like piles of salt when covered by snow.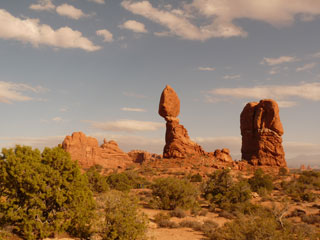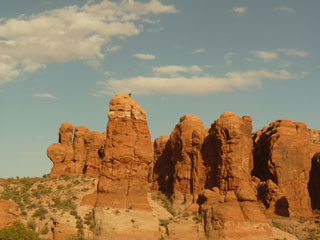 If you look closely in the second photo above you can see some teens who climbed this spire. The park service doesn't take kindly to these shenanigans, and the sandstone can be quite fragile. It was also quite windy...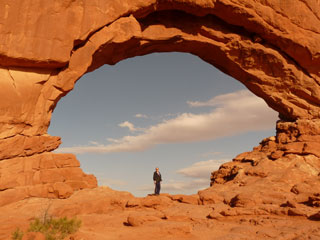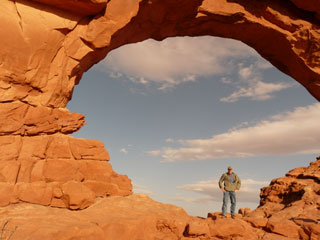 We drove past Petrified Dunes, which are ancient giant sand dunes turned to stone. We stopped to walk around the Balanced Rock which stands precariously by itself on top of a pinnacle. We hiked the Windows Trails up to the North Window (see above).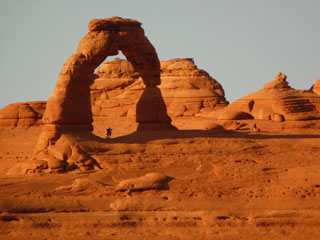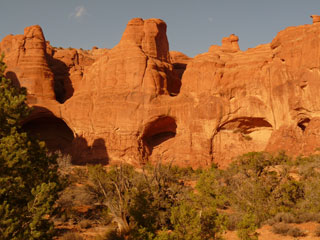 There are over 2,000 arches to view in this tranquil place. In the photo above you can get a perspective of the size of Delicate Arch with the person standing underneath. Delicate Arch is the most popular, and appears on the Utah license plate. There are three trails which provide views of this arch. We took the half mile viewpoint trail to get a glimpse. Another, more strenuous three mile (round trip, allow 2 to 3 hours) hiking trail offers a close view after walking along a rock ledge for 200 yards.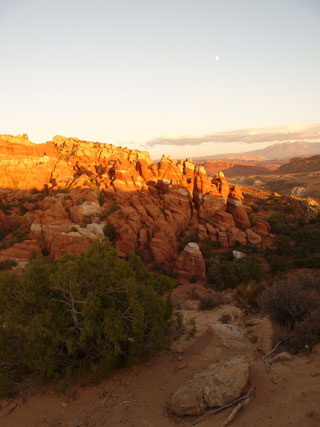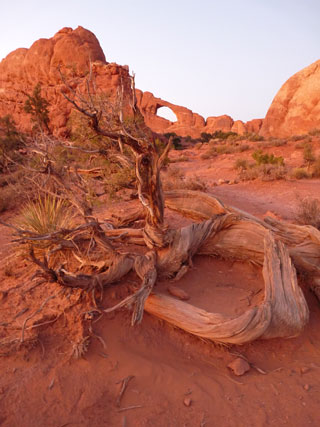 At the Fiery Furnace, a maze of spires create an intricate array of miniature canyons. Native Americans traveled these lands for thousands of years, leaving evidence of petroglyph and pictograph drawings.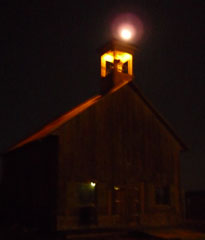 As we got back to our RV park after dark I wondered what the pioneers thought as they traveled out West and went to sleep in their wagons dreaming of this new frontier...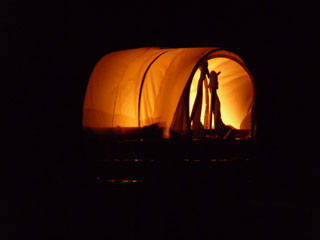 comments powered by

Disqus