Thursday, October 22, 2009
Wild West Trip: Day 5 - Flagstaff, AZ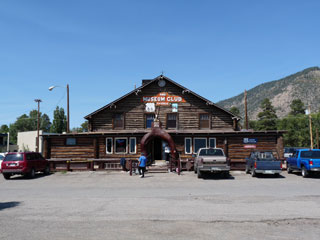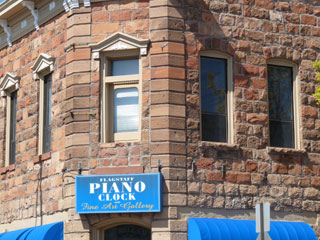 We then took Route 66 into Flagstaff, taking photos along the way. Established in 1931, The Museum Club is an icon roadhouse where many country stars have played. We just missed Sammy Kershaw playing there. Old neon motel signs still line the streets promoting color TV and air conditioning harkening to the days when the Mother Road was a true adventure. One sign that is over the skyline for the Motel Downtowner promotes rooms at $5 a night. Flagstaff gets lots of tourists who are headed to the Grand Canyon. We didn't have time to make the trip there this time. It is one of my favorite National Parks. Saw an interesting site in town where someone was carrying a large moose head in the back of their truck ready to be mounted on their wall.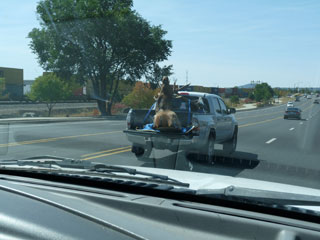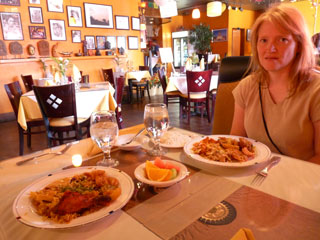 After driving around for awhile, we decided to try out Himalayan Grill for some Indian food. The lunch buffet included selections from India, Nepal, and Tibet, plus some great naan. Naan is an oven baked flatbread. Ate later at Granny's Closet Restaurant. Was attracted to it as it has been in business since 1974, had a vintage tractor out front with Paul Bunyan statue, and promoted home cooked food. Was NOT impressed. Food was mediocre and it was very loud with a kid's soccer team and crowds watching football on a large screen. The apple pie is definitely not the best on Route 66 as promoted...It was pot pie sized and a disappointment.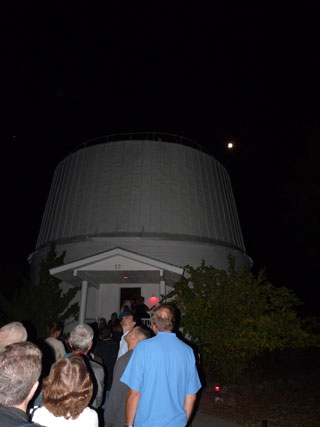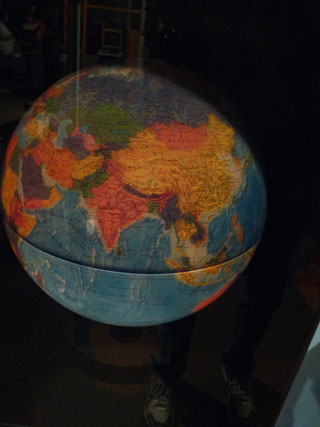 Next up we went up to Lowell Observatory to see some stars. The Moon was shining bright and there were several amateur astronomers who brought their large telescopes for people to see the Moon, Vega, and other stars. Founded in 1894 by Percival Lowell, the large telescope is still in use today over 100 years later. Through the large lens in the Clark Telescope Dome in the photo above we viewed Jupiter, which had streaks, and could see a large dot which we were told was where an object had impacted the planet. Only a few people are allowed within the Dome at one time, and flash photography is not allowed. The telescope was built for the large sum of $20,000 back in 1896, and amazingly is still in active use today. From another large telescope here Pluto was discovered in 1930. There are interesting exhibits, a Space Theatre, and a store on the campus, including a meteorite fragment found near Meteor Crater just down the road. It weighs 535 pounds and includes traces of diamonds, nickel, gold, platinum, and silver, but is mostly iron. This rock was part of a large meteorite that fell to Earth with a bang some 50,000 years ago, creating a hole 570 feet deep and 3/4 of a mile wide known today as Meteor Crater. For many years it was on display at the Meteor Crater store until the store closed in 2008 (the last family owned business in the National Park system), and was moved to the Lowell Observatory.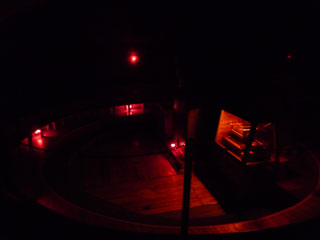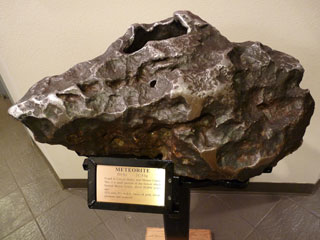 After a long day of sightseeing, we rest up and head next to Page, Arizona and an adventurous tour of amazing Antelope Canyon.


comments powered by

Disqus