Tuesday, October 13, 2009
Wild West Trip: Day 4 - Hotel El Rancho, Gallup, NM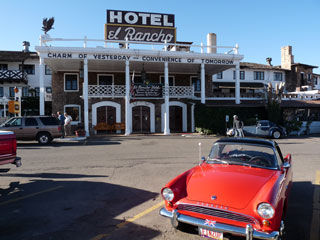 We ate breakfast at Hotel El Rancho in Gallup, NM. Steeped in history, signed photos line the hotel walls, with a one-of-a-kind lobby with Western and Native American influences evident throughout with a large stone fireplace and vintage furnishings. All the great movie stars have stayed here while filming nearby since the hotel opened in 1937, from John Wayne, Jimmy Stewart, Jackie Cooper, Spencer Tracy, Kirk Douglas, Errol Flynn, Gregory Peck, Alan Ladd, Humphrey Bogart, Katherine Hepburn, Jane Wyman, and many more. While eating, we saw some British couples who were touring Route 66 and had brought over their vintage cars to drive it first-hand.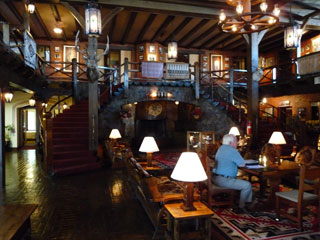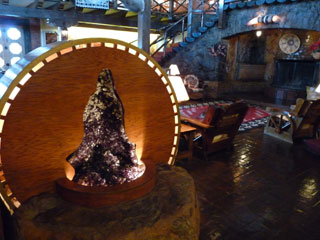 After our breakfast of pankcakes, eggs, bacon, and breakfast tacos, we toured the Presidential Suite where Presidents Ronald Reagan and Dwight Eisenhower have stayed. The large room had a Western motif, with the bathroom a purple framed mirror, sink, and shower with rock walls. Each room within the hotel has the name above the room of a famous movie star who stayed there.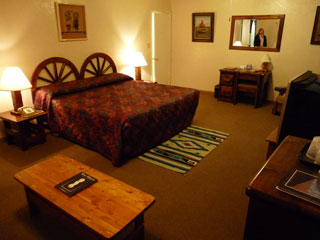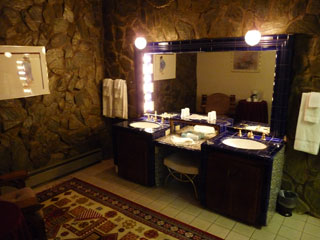 Each August in Gallup the Inter-Tribal Indian Ceremonial is held, a tradition for over 60 years, with rodeos, pow-wows, arts and crafts. Just a short drive from many national monuments and sites, Gallup also contains many signs and businesses along Route 66 to remind you of how the highway used to be.

From here we head to Meteor Crater to explore more of Route 66 and Flagstaff.




comments powered by

Disqus