« January 2012 | Main | March 2012 »
Friday, February 10, 2012
Xunantunich Tour in Belize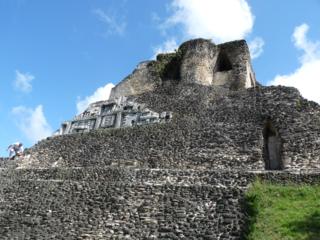 The Mayans are getting much attention in 2012. Their Long Count Calendar predicted the end of the world to be December 21, 2012. I wouldn't head for the hills just yet....It is amazing that their architecture was so advanced. At one time, over a million Mayans lived in current day Belize (three times the present population), and only a small number of Mayan ruins have been excavated so far.

I arranged our Xunantunich tour through Royal Caribbean as our shore excursion while in Belize. The trip by bus from Belize City to Xunantunich near the Guatamalean border takes 2 hours. During this time our tour guide pointed out interesting aspects of daily life in Belize, the culture, and a history of the Mayans. I had a great time hiking up El Castillo and visiting the second tallest structure in Belize.

Join our page to see more photos and discuss travel.


On our tour bus heading out of Belize City towards our destination.


If anyone is going to Belize and would like to tour the country and Xuanantunich, our tour guide gave me his contact: jun.jun.360@hotmail.com. His name is
Eusebio Valdez
, and contact phone is (00)501-601-4841. Great guy. Is working towards a degree in Archaeology, and gives a fascinating tour on the Maya ruin and his country.