Star Drug Store, Galveston, Texas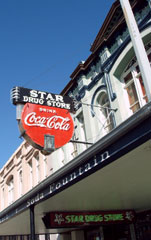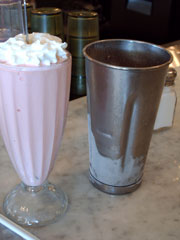 The oldest drug store in Texas

Historic Soda Fountain on Galveston Island Beckons Locals and Tourists
by Carl Burnham

The heritage continues on strong today, as delicious treats and food are served from the original soda fountain on 23rd Street in Galveston. The porcelain neon Coca Cola sign by artist Jules Lauve with his signature above Star Drug Store is the oldest one known to exist.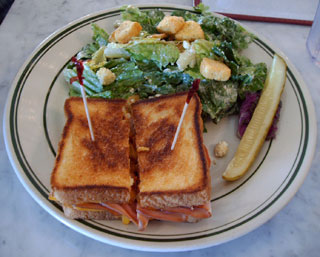 Front Entrance By Stairway
There are a wide range of menu selections available to choose from at Star Drug Store, including burgers, sandwiches (I had a delicious ham and cheese), salads, soups (the tomato-basil soup I hear is very tastey), plus breakfast selections that include omelettes, eggs, pancakes, bacon, toast, and of course grits.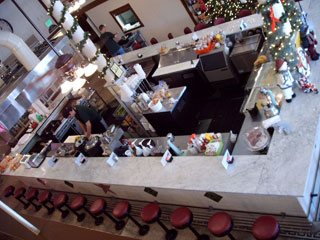 View of Soda Fountain
The original 1917 horseshoe counter has been restored. If you notice, there is the trademark red tile star that Star Drug Store is famous for. After a devasting fire in 1998, the new building owners undertook an impressive complete restoration over a 4 years period. It was repaired again after Hurricane Ike to be enjoyed now once again as a true Galveston landmark.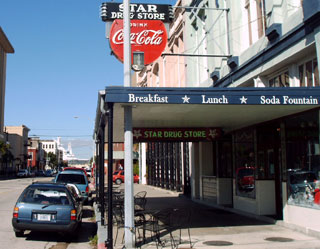 Near the Strand and cruise port
The original building was designed by famed Galveston architect Nicholas Clayton in 1886, along with Levy's Department Store which used to be located next door and was the largest mercantile in the South. When druggist Charles J. Michaelis purchased Star Drug Store in 1906, he kept to Clayton's design, but converted the building to brick, opening in 1909. Through the years, Star Drug Store has held a special place in the hearts of islanders and tourist alike. When customers were given medicine to take, they laid down on cots upstairs to check for any allergic reactions. In the early days, it had the distinction of having valet parking, quite unusual for a drug store.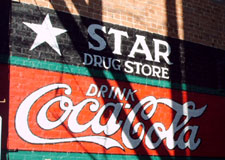 Side of building
After enjoying your meal, take your time and walk around the store to see the many
artist displays and the unique history that lines the walls. The original cast iron store safe dating to 1873 is in the lefthand corner. The historic Strand area nearby has many gift and antique shops that have now reopened. Parking is available on the street and in designated parking areas.
We would like to thank Natili and the Star Drug Store staff for assisting with our feature.
Directions:
I-45 becomes Highway 87, then Broadway once in Galveston. Turn left on 25th, go 5 blocks and turn right on Avenue E (Post Office) Street. Go 2 blocks and you will see the large Star Drug Store sign.

Hours of Operation:
Breakfast:
Tuesday - Saturday from 8 a.m. - 10:30 a.m.
Sunday brunch from 11 a.m. - 4 p.m.
New Orleans Style with free Mimosas
Lunch:
Tuesday - Saturday 11 a.m. - 2 p.m.
Soda Fountain: All Day



Star Drug Store, Galveston, Texas
510 23rd Street
Galveston, Tx 77550
(409) 766-7719
Known by all the island locals as Chili, Demetrios Chionsini created unique handcast sand wall sculptures and also handmade spun glass creations. Sadly, he passed away in the summer of 2008, but gladly before seeing Hurricane Ike's damage. A display of Chili's artwork is on display at Star Drug Store where he sold his creative works. Chili, born in 1922, claimed to be 39... He knew all and had seen it all as a native of Galveston Island, and had many memories to share with us on our visit before he died. After getting a BS in Industrial Arts, he owned numerous souvenir shops around the island (including in the Galvez Hotel, the Jack Tar Hotel and two on the former Pleasure Pier), in addition to a camera shop and hardware store. We will always cherish a sandstone seahorse he made for us and hearing him tell tales of the island.


Local Weather & Directions

GO USA cards - unlimited FREE admissions to top attractions!
check our exclusive specials



Bed and Breakfast Gift Certificates Good at over
3,500 Properties

Schlitterbahn -



Travel America Tshirts & More
Arches | Grand Canyon
Glacier-Mtn. Goat

Advertise with Southpoint