Telluride Historical Museum, Telluride, Colorado
by Carl Burnham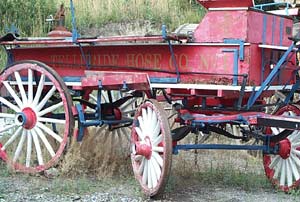 For a true appreciation of Telluride, a must see visit is to the Telluride Historical Museum. Located at the base of Tomboy Road, which leads up to area ghost towns (see our feature on our mountain tour), the building was first used as a miners' hospital and now has been restored as a Museum.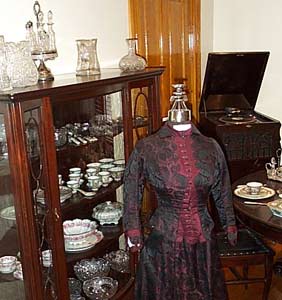 Period Dress and China
From viewing the exhibits one gains a new appreciation for the pioneer, and especially the miner, who made the area famous. The miners were a hard living lot, who put in long hours and almost unbearable conditions in the remotest of places at the time. Some did get very rich. There were more millionaires living in Telluride than New York City around 1904, and the population at times grew to 5,000.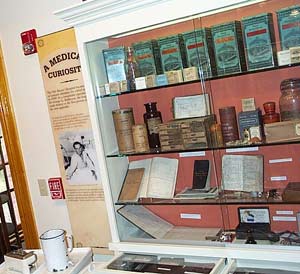 Medical History
The area mines were mostly up a narrow, steep, and winding road (Tomboy Road), 3,000 feet above town in places like Alta and Tomboy, now ghost towns. These are only accessible with a 4x4. Be sure to see the exhibit replica of the Tomboy Bride cabin, and read the book about her hardships in coming to Tomboy as a bride to live. The Tomboy Mine was once among the world's biggest producers of gold. There are now over 300 miles of old mining tunnels in the surrounding mountains.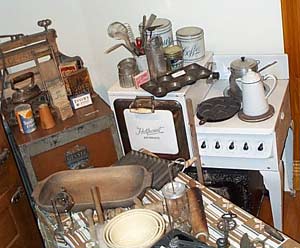 Old Kitchen Area
As with most booms, hard times came to Telluride when the price of gold, silver, and other metals dropped over the years. The town was headed to become a ghost town itself, if not for a ski resort that opened in the 1970s, creating a mega attraction.

While visiting the museum, be sure to the basket where the term "basket case" first came to be used.
We would like to thank the Museum staff for their assistance.

Open Tuesday thru Saturday 12-5
$5 for adults, $3 for seniors, children under 5 are free.

Telluride Historical Museum
201 W. Gregory
Telluride, CO 81435

The summer brings a wide range of outdoor fun, from mountain biking, mountain climbing, horseback riding, camping, ballooning, or a round of golf at the 18-hole golf course. Or, take in some trout fishing in the Dolores or San Miguel Rivers or by the Woods or Trout Lake.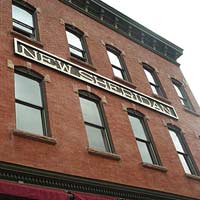 New Sheridan Hotel


New Sheridan Chop House
Restaurant

GO USA cards - unlimited FREE admissions to top attractions!
check our exclusive specials

Travel America Tshirts & More
Arches | Grand Canyon
Glacier-Mtn. Goat

Best Rated Hotels

Advertise with Southpoint