Tantalizing Selections in the Old West
- New Sheridan Chop House, Telluride, Colorado
by Carl Burnham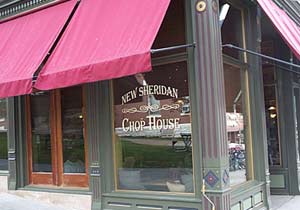 The New Sheridan Chop House provides a tantalizing menu of fresh meats, seafood, and pasta to select from, right in the heart of historic Telluride. As part of the New Sheridan Hotel and Bar, the oldest building in town (which opened as a hotel back in 1895), many legends have got their start here.
The New Sheridan Chop House is under the expert management of Leslie Brown, who coordinates the yearly Telluride Wine Festival (one of many festivals here) held June 27-29 each year.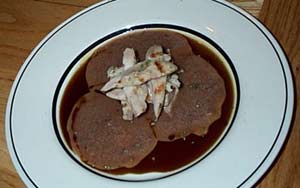 Grilled Rabbit Loin
For an appetizer, we selected the Grilled Rabbit Loin which was tender from a red wine sauce. The menu selections consist of USDA prime beef, pork, chicken, lamb, elk, buffalo, deer, or fresh seafood.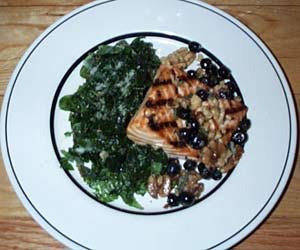 Grilled Wild King Salmon
Our main dishes consisted of a Buffalo Tenderloin, topped with a honey barbeque sauce, and a Grilled Wild King Salmon that was decorated with walnuts, berries, and sage, with side vegetable dishes.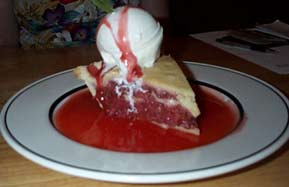 Raspberry Pie Topped With Ice Cream
We could not resist the temptation, and had a raspberry pie topped with vanilla ice cream.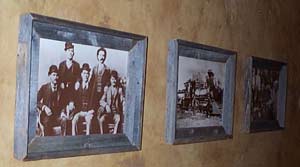 Butch Cassidy and others in Telluride History
Be sure to view the numerous vintage photos near the bar, and decorations on the walls that add to the warm appeal. There is an impressive wine selection, over 100 aged varieties available.
Reservations are recommended.
We would like to thank Ms. Goodall, our waitress, and the chef for a most enjoyable meal.
New Sheridan Chop House
233 West Colorado Ave.
970-728-9100
Dinner is served starting at 6 pm.



Telluride contains many original storefronts and Victorian houses that were built by the pioneers. As the town is a National Historic Landmark District, this will ensure that Telluride will continue to have an authentic old West appeal.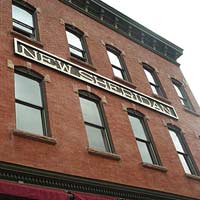 New Sheridan Hotel


Walking through the historic New Sheridan Hotel & Bar next door to the New Sheridan Chop House, one has a rich sense of the old West. Telluride was the site of Butch Cassidy and his gang's very first bank robbery in 1889, getting away with almost $25,000 of the area miners' money. Visit the New Sheridan Bar where it is said that Butch Cassidy and the Sundance Kid planned their bold holdup of the San Miguel Bank just down the street. The bar consists of a rich cherrywood. Locals say that a resident comes in on occasion on his horse to whet his whistle.

Visit Our Sponsors



GO USA cards - unlimited FREE admissions to top attractions!
check our exclusive specials

Travel America Tshirts & More
Arches | Grand Canyon
Glacier-Mtn. Goat

Best Rated Hotels

Advertise with Southpoint