Yogi Bear's Jellystone Park
Hill Country, Canyon Lake, Texas

Family Fun Campground in the Hill Country
by Carl Burnham

Situated on 28 acres of oak trees, the Jellystone Hill Country Park is sure to please the whole family. From viewing the calendar of events, the camper or lodge guest can choose from a wide range of weekly events at the campground.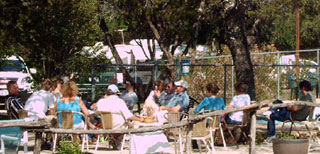 Patio Area near Outdoor Swimming Pool
Onsite amenities include hiking trails, "Hey Hey" rides, a basketball court, playground with swings, gem mine for the kids, a game room, a full tournament sized sand volleyball court, shuffleboard, horseshoes, pedal cart rentals, a heated indoor pool and spa, and an outdoor pool.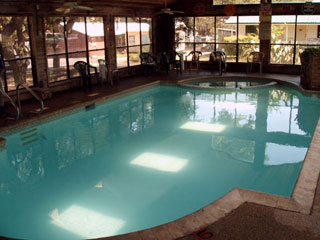 Indoor Swimming Pool and Spa
With all the things to do at the campground, it's easy to forget that the Guadalupe River is nearby (just 1/2 mile down the park), providing tubing, canoeing, kayaking, or fishing. Just 3 miles away at Canyon Lake, there is more of the same, plus skiing, boating, or just basking in the sun.
In the evenings we enjoyed walking around gazing at all the stars, as campers cooked marshmallows over open fires at their sites. The New Braunfels Astronomy Club visits once a month, and was there on Saturday evening to tell fascinating facts about our universe, and show us the planet Saturn up close through their elaborate telescope.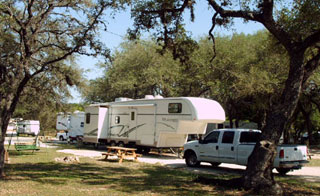 Our site included picnic table, swing, firepit, full hookups, Cable TV, and a great wireless Internet connection
There are 140 RV sites to choose from, with four separate sections for RVs and Tent campers, as well as an RV Rally area for groups, handicap accessible bathhouse, 2 laundry rooms, and 2 meeting rooms. An RV storage section is available in the park for a low monthly fee.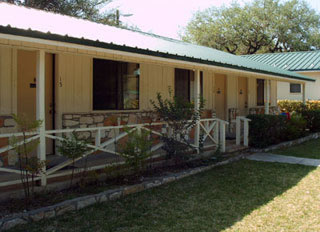 The park includes 20 Lodge Rooms and 3 private cottages
Lodge rooms include 2 king sized beds, full bathroom, cable TV, kitchenette, and bed linens, plus dishes, silverware and utensils for 4 people.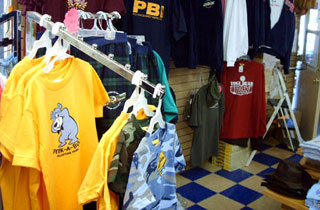 Yogi's Country Store
The country store offers camping and RV supplies, gift items, food and beverages, an Internet workstation, and propane sales.
We would like to thank the Jones family and the Jellystone staff for assisting with our feature and accommodating us at their special Texas hill country RV park.
Directions:
View Google Map

If coming from I-35, exit at Exit 191. Travel 13 miles on Hwy 306 to the park entrance.

If coming from Hwy 281, take Hwy 306. Travel 13 miles to the park entrance.

GPS Coordinates:
North 29.8638
West 98.1711

Yogi Bear's Jellystone Park Hill Country

12915 FM 306
Canyon Lake, Texas 78133
(877) 964-3731
(830) 964-5781




Situated just 3 miles from Canyon Lake, this manmade lake provides lots of fishing and water fun. While visiting, we saw the largest cigarette boat we've ever seen parked there. Just a 1/2 mile down from the park in the other direction is the Guadalupe River where we saw many tubers enjoy floating down the river. A shuttle is available to pick up and drop off from the park for tubers. The Guadalupe is also a favorite for fishing, canoeing, or kayaking.

While in the area, be entertained by visiting the Canyon Trail Chuckwagon Supper & Cowboy Music Show for classic Western tunes and a Texas BBQ in nearby
New Braunfels.


GO USA cards - unlimited FREE admissions to top attractions!
check our free shipping special

Get low interest credit cards with rewards!
Travel America Tshirts & More
Arches
|
Grand Canyon
Glacier-Mtn. Goat
Best Rated Hotels
Advertise with Southpoint