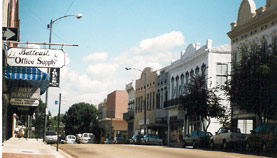 Natchez - Mississippi

- by Tommy Ford

Private organizations in Natchez have done much to preserve and protect the remnants of the plantation culture. If would be wonderful if some similar group would do the same to preserve and promote the fascinating, yet crumbling, old commercial district. In the old downtown area, block after block is lined with late 19th and early 20th century commercial buildings.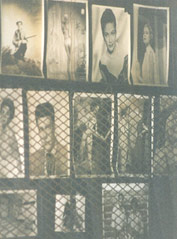 Businesses survive in some, but sadly, most stand empty, falling into disrepair.When these photographs were taken back in 1996 at the Roxie Theatre, the glamourous movie stars' autographed photos from yesteryear were aging in the case outside, just like the old theatre. The Roxie has been closed for years.

From top left, are such noted stars as Robert Mitchum, Diana Dors (the British Marilyn Monroe), Yvonne DeCarlo, Grace Kelly, Elizabeth Taylor, among others.



For dinner we attempted to dine at King's Tavern and were much disappointed that there was a two-hour wait. (We'll make reservations next time!) King's Tavern is one of the oldest structures in Mississippi dating at least since 1769. Originally a tavern, many a rowdy guest stayed, with bullet holes still visible in places. The first mail to the region was delivered here. The tavern catered to many of the famous, including Andrew Jackson. The small dining room today serves a limited menu, which has a reputation for being excellent. As an added attraction the Tavern is supposedly haunted by more than one ghost. Strange occurrences such as objects moving and doors slamming by themselves have been observed by customers and employees alike. This mystery is enhanced by knowing that the remains of a murder victim were once found walled up in a chimney. We'll find out for ourselves on our next visit. Maybe the ghosts will save us a table.



Unsuccessful at King's Tavern, we dined instead at Cock of the Walk, on North Broadway. This restaurant is located in an old railway station with a dining car attached. Catfish is the specialty here. Fried and spiced just right the fish goes perfectly with the cole slaw and corn bread which were served in abundance. If you like food cooked the old southern way you won't regret a stop by Cock of the Walk.