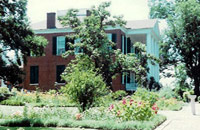 Natchez - Mississippi - by Tommy Ford

The past is close to the surface at Rosalie, a museumand former home operated by the Mississippi Daughters of the American Revolution. Every room bursts with fascinating artifacts.
Constructed in 1820, Rosalie preserves a slice of the old south. The old kitchen is also included in the tour and there is a gift shop on the grounds, which neighbor the site of Fort Rosalie.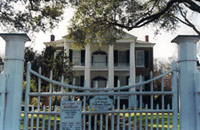 Our DAR guide was very knowledgeable, practically bubbling with enthusiasm for the house. Her attitude was infectious. By the time we left I was ready to declare Rosalie my favorite Natchez mansion. During the Civil War the Union Army used Rosalie as headquarters. This may explain the Union sword on display, which was discovered hidden in the attic only a few years ago.

For lunch we stopped in at Fat Mamma's Tamale's, a Natchez institution located just down the street from Rosalie. The food was simple yet good.
Our next stop was the new Natchez Visitors Center located near the Mississippi River Bridge. Reservations may be made here. A film explains the history of Natchez and there are revolving historic displays. If you're new to Natchez, the Visitor's Center should definitely be your first stop. Horse drawn carriage tours are available at the old Depot on Canal Street. You may also purchase home tour tickets from the Natchez Pilgrimage Tours, located in the Depot.

Continued on Next Page