« Reminiscing about our Alaska travels | Main | More London Travel Notes »
Thursday, August 17, 2006
Exploring Inner Space Cavern in central Texas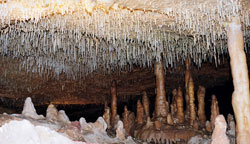 We toured these mysterious limestone caverns recently just outside of Georgetown (just 20 miles north of Austin), which were discovered in 1963 when bore holes were being made prior to Interstate 35 being built, and had been hidden for 10,000 years. Within these well preserved caverns in the Discovery Room you can see where bore holes came through the ceiling of the cavern and the hole where a worker was first lowered into the cavern on a large drill bit.

A rich array of well preserved prehistoric animal bones have been discovered in the caverns, including sabertooth tigers, huge armadillos (which were the size of a car), and tiny horses. Watch an interesting video on the fossils here.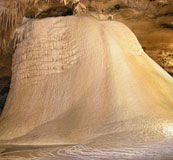 You can see lots of examples of giant formations, including stalactites, helectites, and flowstones (see above), formed over thousands of years into unique patterns as water has dripped over them, and are still slowly growing. Estimates put the cavern to be 100 million years old. Our young guide kept us entertained with corny stories, and the 72 degrees temperature was a welcome change from the 104 degrees above ground. We plan to take a Wild Cave tour soon, where you can explore some of the hidden nooks and crannies of the caverns, and get all muddy in the process.
Carl