Coming Home -
"We came back on the USS Randolph*, a converted aircraft carrier which saw action at Iwo Jima. We left from Naples, Italy, and made it to New York City, the trip taking 7 days. It was a bumpier ride than coming over. It would go up and down, and sideways. I was released from Camp Shelby on December 8, 1945 as a Corporal. The discharge officer was Captain W.F. Hallfrisch FD. I would later get official letters from Brigadier General Richard C. Sanders and General Arnold, commander of USA AAF, Louisville,Ky., about my being in the war."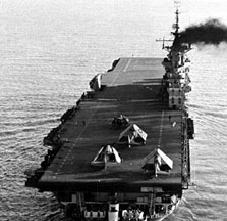 *USS Randolph
http://www.history.navy.mil/photos/sh-usn/usnsh-r/cv15.htm
Following the end of the war, the U.S.S. Randolph headed home. Transiting the Panama Canal in late September, she arrived at Norfolk, 15 October, where she was rigged for the "Magic Carpet" service. Before the end of the year, she completed two trips to the Mediterranean area to return American servicemen.Then, in 1946, she became a training ship for reservists and midshipmen,and made a Mediterranean cruise in the latter half of the year.
"After the war, Ches and I tried to make a go of farming and raising chickens. Bought grib full of corn from
Web Hudson
(Meb's father) to feed the chickens. Because of strikes, seed wasn't available. We tried to grow cotton on 15 acres. Had alot of rain, and the cotton squares fell off before the boll developed. Also grew corn on about 5 acres. I got out of farming after about eight months, barely broke even."
--