Boone Hall Plantation, Charleston, South Carolina
"Americas Most Photographed Plantation"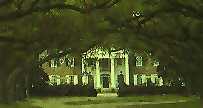 Built in the early 1700s by Major John Boone, Boone Hall was originally part of a cotton plantation covering more than 17,000 acres. Two hundred years later, it was the world's largest pecan grove producer.

The original estate house, cotton gin, slave cabins, smokehouse, formal gardens, and some of Charlestons' historic structures were built with brick and tile handmade on the plantation. Many of these buildings are listed on the National Register of Historic Places.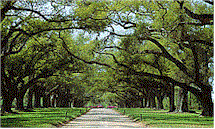 Huge Spanish live oak trees line the half-mile entrance to the plantation, planted over 250 years ago by Captain Thomas Boone. Several films and motion pictures have been made on the estate, including the North and South television mini-series. The plantation estate includes a library, period antiques, and guided tours. A restaurant and gift shop are located in the cotton gin house.

The plantation is located just six miles north of Charleston, S.C. on Highway 17.
Schedule (subject to change)
OPEN ALL YEAR (Except Thanksgiving and Christmas Day
Monday thru Saturday 9 A.M. to 5 P.M.
Sunday 1 P.M. to 4 P.M.
(April 1 thru Labor Day)
Monday thru Saturday 8:30 A.M. to 6:30 P.M.
Sunday 1 P.M. to 5 P.M.
Admission Charged
Telephone (803) 884 4371