Feature Attractions - Bar D Chuckwagon
Durango, Colorado
by Carl Burnham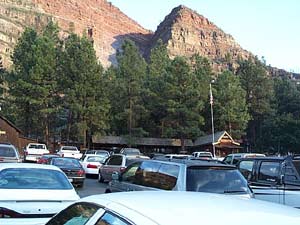 For a refreshing evening of fun, food, shopping, and real western entertainment, the Bar D Chuckwagon will please the whole family. It is a hoot! Since 1969, the Bar D has provided an evening meal, followed by a country western stage music show mixed with cowboy ballads, poetry, and comedy.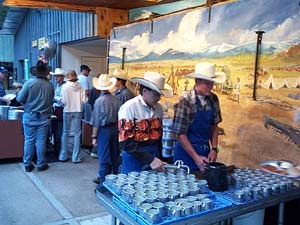 The doors open at 5:30 and supper is served every evening at 7:30. Our meal consisted of a choice between sliced roast beef, boneless chicken breast, a combo plate, or flame broiled rib eye steak, with sides of baked beans, potato, homemade biscuits, applesauce, and spice cake. A choice of coffee or lemonade is included with your meal.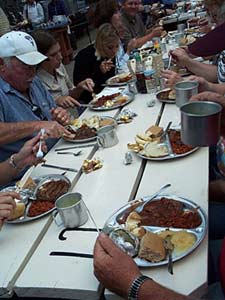 In addition to the delicious supper and evening music, we were impressed with the speed that the freshly cooked meals were served, with almost 700 going through the serving lines. They have the process down to an art form, and we were served up promptly. We had the chicken breast meal, and it was cooked to perfection. They also allow guests to come back for seconds, and have workers that make sure that your coffee or lemonade is always full.

Everyone sits at long tables in an outdoor setting, and you get to chat and make new friends. The sooner that you arrive, the closer you will be to the stage for the performance. Towards the end of our meal, the talented Bar D Wranglers took to the stage.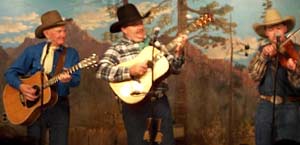 The Wranglers bring a rich blend of talent in guitar picking, fiddle and bass playing, mixed with cowboy humor and style. They perform seven days a week from the last week in May until the first week in September, with show themes varying on the odd and even days of the month.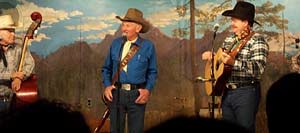 Cy Scarborough, second from the left in photo, opened the Bar D Chuckwagon way back in 1969. Cy provides some side splitting laughs, tall tales, and talented singing and guitar playing along with the rest of the Wranglers. Bob Minser, on the bass in the photo, played with the original Sons of the Pioneers. Gary Cook to the right has won the National Flatpicking Championship for several years in a row. Matt Palmer provides some talented fiddle playing.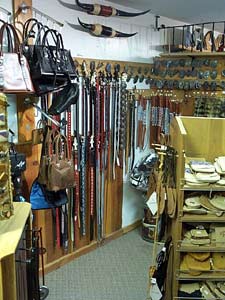 There is a nature trail, a train for the kids, a blacksmith shop, bookstore, pottery and photography shop, leather shop, a chocolate (locally made) shop, and gift shops with plenty of western wear to choose from. Be sure to pick up one of the Wranglers' CDs to take home. There is also a wedding chapel. Thanks to the area firefighters, the Bar D Chuckwagon was saved from the Missionary Ridge fire back in 2002.


Location:
Located just 10 miles north of Durango along the East Animas River Road (also known as 8080 County Road 250), you will enjoy the beautiful short drive from town.

Reservations:
Reservations are required, contact (970) 247-5753 or toll-free 1-888-800-5753 for dinner arrangements. In case of rain, a tent canopy can cover the seating area.

Admission for the supper is $17, $20 for a beef and chicken combo, $26 for a 12 oz. rib eye steak meal (must be purchased by 6:45 p.m.). Children which are 8 years and under are only charged $8. Admission includes the supper, evening show, taxes, and tip.
We would like to thank the Bar D Chuckwagon for assistance with our feature. For more information, call (970) 247-5753 or toll-free 1-888-800-5753, or visit them here.

Top of Page