The Ozarks - Arkansas
by Tommy Ford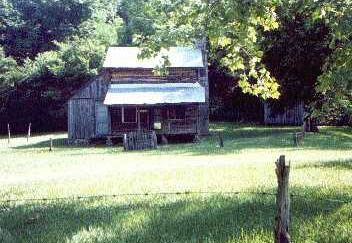 Parker Hickman Farmstead

It's a curious blend of 19th century pioneer architecture and such modern anemities as electric lights.
The oldest historic structure in the park is the Parker Hickman Farmstead. Here you'll find a log house, barn, outhouse, and several other structures.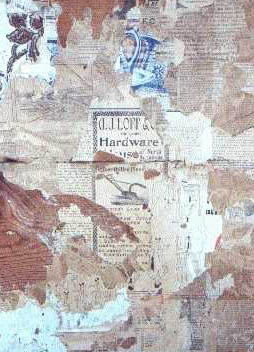 We spent a few pleasant moments reading the newspapers that were used to paper the walls (shown here) where you'll see advertisements for such necessities as horse drawn plows.
Down the road from the Parker Hickman farm we came to Erbie ford where the Buffalo pours across the road. There'd been heavy rains the week before and we didn't think it wise to risk the foot deep waters so what lies beyond will have to wait for another trip. Some foolhardy individual's truck had been washed into the river at this ford just the day before. A photo of him standing on the vehicle's roof graced the front page of the local paper.
The Buffalo National River reminded us of the southern Appalachians in many ways, only minus the crowds. We drove for hours along the backroads and saw hardly another vehicle. If you plan a visit remember this because if your vehicle breaks down it may be a while before help comes. Also be aware that there is private land within the boundaries of the park. Local landowners don't take kindly to nosy tourists destroying their fences or trespassing around their barns so please respect their rights.

Previous Page | Continued on Next Page