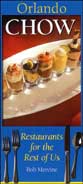 Orlando Chow
Restaurants for the Rest of Us
by Bob Mervine
Published by:
The Intrepid Traveler
217 pages
Retail Price: $11.95
Buy Now via Amazon
You know the feeling. It's the family vacation. You've been sightseeing seeing Mickey and friends all day and want to go somewhere special for dinner. But where? All you see are fast food signs on the horizon. But then again this is your vacation. You want to make it memorable. If only you had a guide to tell you where the great spots were that had delicious food at an affordable price. Now you do.
For our many travels to Orlando, we wish that this guide had been available before. The author, an area food writer, has all the essentials you need, covering almost 100 local restaurants that serve a variety of tasty dishes, organized by what the best menu items are, who the owners are, the pricing, atmosphere, how friendly the service is, if vegetarian is available, if it has a bar, the parking, and how to get there. Two maps are included in the book to help you find you way around town quickly.
The author is a wine specialist as well, and notes restaurants that have some of the best local wines. He highlights also restaurants that serve local fare, referred to as "Floribbean" which is a combination of Florida seafood and fruits with a Caribbean twist for a unique experience. For vacationers or business travelers to central Florida, this is a great restaurant guide to have. Make your next vacation to Orlando extra special by carrying along this book.
Buy Now via Amazon