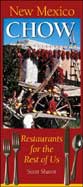 New Mexico Chow
Restaurants for the Rest of Us
by Scott Sharrot
Published by:
The Intrepid Traveler
220 pages
Retail Price: $11.95
Buy Now via Amazon
The focus of this book is in pointing out the affordable restaurants to go to get great food in New Mexico. These are the ones that the locals know of as having the best food in their class, a legend or one in the making, where your mother would be envious of the chef, and that are easy on the pocketbook. From ABC Chinese Restaurant to Zinc, it's all about the food, with the atmosphere mostly on the casual side.
For our most recent travels through New Mexico, we wish that this guide had been available then. The author, a chef, restaurant consultant, teacher, and resident, knows his subject well, and includes the essential ingredients organized by what the best menu items are, who the owners are, the pricing, atmosphere, how friendly the service is, if vegetarian is available, if it has a bar, the parking, and how to get there.
The author notes of one restaurant as being "...the kind of place where they slip an extra rib on your plate just so you can taste it. You can sit and watch ranch hands and cowboys shoot the breeze in this authentic Wild West eatery." Now that's our kind of place! There are many more noted within that range from Mexican, Italian, Greek, Afghan, Thai, Vietnamese, Eclectic, to good ole American. that will have your mouth watering to try. For travelers to New Mexico and residents alike, this is a great restaurant guide to have.
Buy Now via Amazon