London Red Routemaster Doubledecker Buses Retired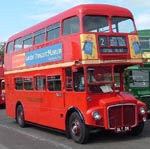 Over the past 50 years, the doubledeckers came to be uniquely tied to London. The unique design, with aluminum frame, became an instant classic after being introduced in 1954. Now bowing to the need for newer buses that are accessible to the handicapped, the last regular schedule ran December 2005.

Take heart, the buses are not going away completely. Sixteen Routemasters will continue on two "heritage routes" that run through the main sections of London between 9:30 a.m. and 6:30 p.m. We noted several during our visit for our new Destination UK Guide.